8th Annual Young Leaders Program Held in Vladivostok, Russia
You are here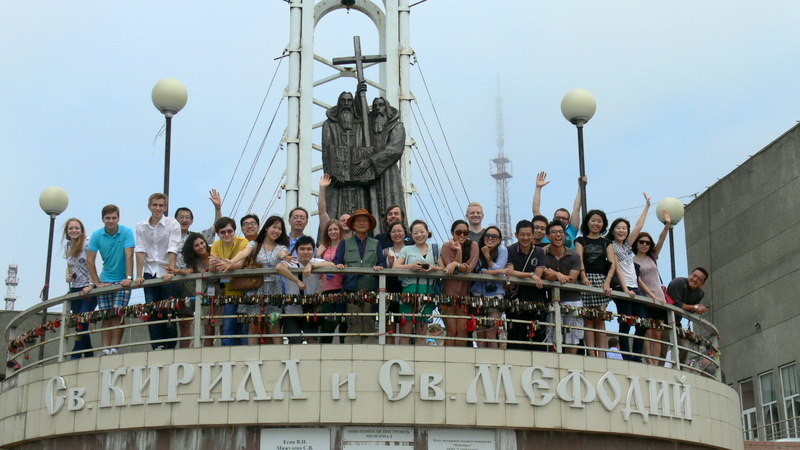 The Eighth Young Leaders Program (YLP) marked a return to the country where the inaugural YLP was held in Khabarovsk, Russia in 2006. In partnership with the Far Eastern Federal University (FEFU) and its School of Regional and International Studies, the 2013 YLP convened in Vladivostok, Russia from August 5-20, 2013. 
A diverse group of twenty-seven young scholars and professionals from the People's Republic of China, Japan, Korea, Mongolia, the Russian Federation, the United States actively engaged in discussions and activities to support cooperation and integration efforts within Northeast Asia. For many of them, this was their first time in an international academic setting and all were grateful to be hosted at FEFU's new, consolidated campus on Vladivostok's Russky Island, the flagship federal campus of east Russia and where the 2012 Asia Pacific Economic Cooperation (APEC) summit was held. FEFU's unified home on the Pacific Rim is symbolic of its emerging role as a hub for the multicultural meeting of minds.
The young leaders collaborated on several research projects including country presentations and thematic presentations. Discussion throughout the program centered on the utilization of trade, infrastructure, information technology, and energy and the environment across borders in the Northeast Asian region. This unique opportunity spurred powerful dialogue between the young leaders and allowed each to learn from the insights of both their peers and experts.
One major highlight for the young leaders was participating in the 22nd Northeast Asia Economic Forum conference, which brought together country representatives collectively engaging the pressing issues and forward-looking debates facing Northeast Asia.  Rigorous discussion over energy and environment, transportation and infrastructure, trade, and development of the Northeast Asia Bank for Cooperation and Development (NEABCD), furthered the forum's mission for continuing cooperation, peace, and prosperity. The young leaders shared a lovely song written for the NEAEF, evoking a strong sense hope for the future through their harmony.
Other highlights of the program included a tour of the Sollers automobile production plant, a tour of the city, and meeting policymakers including the Former Governor of Primorskiy Krai, Dr. Vladimir Kuznetsov.
Several young leaders expressed their gratitude to the NEAEF and its sponsors for this special experience, which was not only enriching, but inspired them to continue supporting cooperation within the Northeast Asian region.